AWC launch two studies on Debt in Tunisia & Yemen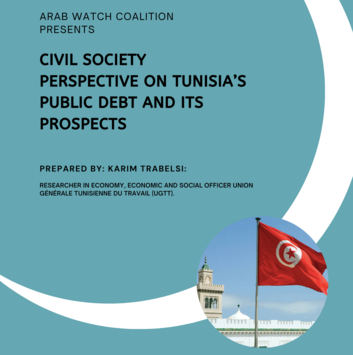 Arab Watch Coalition in partnership with researchers in economy launched two studies on foreign debt in Yemen and Tunisia. The studies highlight the lending policies adopted by International financial institutions and their conditionalities and their impact on MENA region countries.
"Civil society perspective on Tunisia's public debt and its prospects" by Karim Trabelsi economic researcher, and Economic and Social officer Union Générale Tunisienne du Travail (UGTT)
This study aims to elaborate a referential framework explaining the different challenges
resulting from public debt and its impacts on the lives of citizens. This framework introduces all public debt dimensions to help civil society organizations improve their advocacy strategies to curb austerity policies and foster the role of the state in public spending serving the ultimate goal of safeguarding economic and social rights.
"Yemen's External Debt and its Impact on the Yemeni People" by Dr. Sami Mohammed Qasim head of the political science Department – Faculty of Economics and Political Science- Aden University, and Supervised by: Dr. Yahya Saleh Mohsen – Executive Manager of the Yemeni Observatory for Human Rights.
The research paper aims to examine the mechanisms of international lending and loan requirements imposed by international financial institutions, notably the World Bank and the International Monetary Fund. It also aims to take stock of Yemen's debt ordeal and assess its impact on the economy and on the lives of ordinary Yemenis. The research also offers proposals to mitigate the debt impact.
---