Appeal To The World Bank: Cancel Yemen Debt!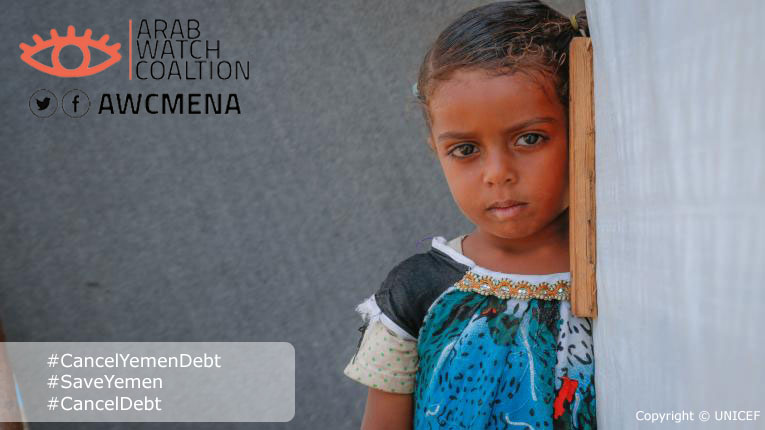 In the 21 of July Yemeni civil society representatives sent an appeal to the World bank board of directors asking them to Cancel Yemen debt and help saving the country,
We are here to support this demand in solidarity with the Yemeni people who are suffering for years to be able to have a decent life .
#CancelYemenDebt
#SaveYemen
#CancelDebt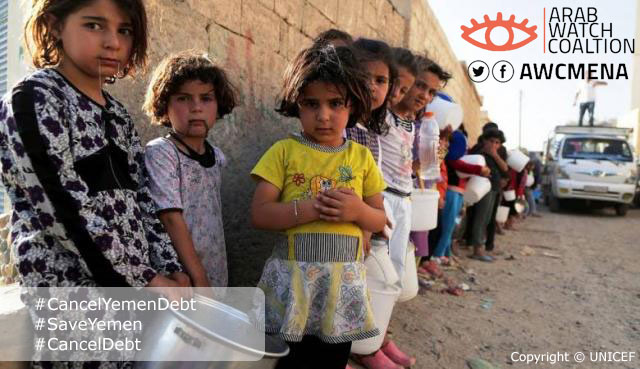 Appeal
Dear Members of the Board of Directors of the World Bank Group:
Subject: Civil Society Call for Foreign Debt Relief for Yemen
We, members of Yemeni civil society, representing broad and diverse segments of society, submit this appeal to you.
We strongly urge you to take the appropriate measures to relieve Yemen's debts. Yemeni people suffer insurmountable catastrophic circumstances that have led Yemen to come very close to a total deterioration at all levels. Those circumstances include, but not limited to:
The devastating war has been going on and expanding in many regions in Yemen for five consecutive years. As a result, the human, social, and economic conditions are collapsing.
The outbreak of the COVID-19 pandemic has destructive effects at all levels, especially with the collapse of the health system of the country.
Government institutions, social service facilities, and educational institutions were destructed. National and foreign investments and capital fled the country because of the war.
Exportation of already scarce oil and natural gas came to a halt. This led to the depletion of basic resources and sources of income, including remittances.
The foreign reserve of Yemen depleted. The country is now mainly dependent on foreign relief aid and on limited deposits in the Central Bank used to cover the import of basic necessities, especially the needed minimum of medications, food, and oil derivatives
The crisis of unemployment exacerbated and expanded. Moreover, inflation sharply increased. National and foreign currency liquidity crisis escalated. Civil service employees have not been paid for more than four years Thus, hunger and poverty intensified, and the ratio of people living under poverty line exceeds 80%, as per OCHA estimates.
Foreign debt accumulation burdens the already exhausted economy of the country, and constitutes a severe debt crisis.
We, therefore, call upon your distinguished Board to take into consideration the state of hunger and destruction in which the Yemeni people (30 million) live in addition to the discontinuation of their salaries and sources of income, and severe deterioration of their living conditions.
Given the tragic conditions in the country, we urge you to take the appropriate measures to relieve Yemen from its debts.
Best regards
Signatories:
Yemeni Observatory for Human Rights
Wedyan Association for Society Development
Studies and Economic Media Center
Yemen Organization for Promoting Integrity
‎Resonate! Yemen
6.     The Supreme Council for Coordination between the Unions of Faculty Members and Their Assistants in Public Universities:1)    The Union of Faculty Members and Their Assistants at Sanaa University2)    The Union of Faculty Members and Their Assistants at the University of Aden3)    The Union of Faculty Members and Their Assistants at Taiz University4)    The Union of Faculty Members and Their Assistants at Hadhramout University5)    The Union of Faculty Members and Their Assistants at Al Hodeidah University6)    The Union of Faculty Members and Their Assistants at Dhamar University7)    The Union of Faculty Members and Their Assistants at Amran University8)    The Union of Faculty Members and Their Assistants at Al Baydha University 9)    Union of Researchers at the Yemeni Center for Studies and Research 7.     Democracy School8.     Awtad Organization to Fight Corruption 9.     Youth, Transparency and Building 10.  Yemen Center for Human Rights Studies – Aden 11.  Children' Parliament 12.  Yemeni Girls Union 13.  My Rights Organization – Al Hodeidah 14.  Al Hodeidah Girls Foundation 15.  Abyan Youth Foundation 16.  Sawaed Al Khair Foundation – Abyan 17.  Smile Foundation – Abyan 18.  Aden Center for Monitoring, Studies and Training 19.  Defaa Foundation for Rights and Freedoms 20.  To Be Foundation for Rights and Freedoms 21.  Yemeni Organization for the Defense of Human Rights and Freedoms 22.  Wogood Foundation for Human Security 23.  The Association of Independent Lawyers 24.  Tagdid Organization for Development and Democracy 25.  Abyan Organization for Human Rights 26.  Resource Foundation for Development and Human Rights 27.  Bridges Development Network 28.  Al-Noor Youth Foundation for Development
#CancelYemenDebt
#SaveYemen
#CancelDebt