We Are Hiring! Equitable Economic Recovery Program Coordinator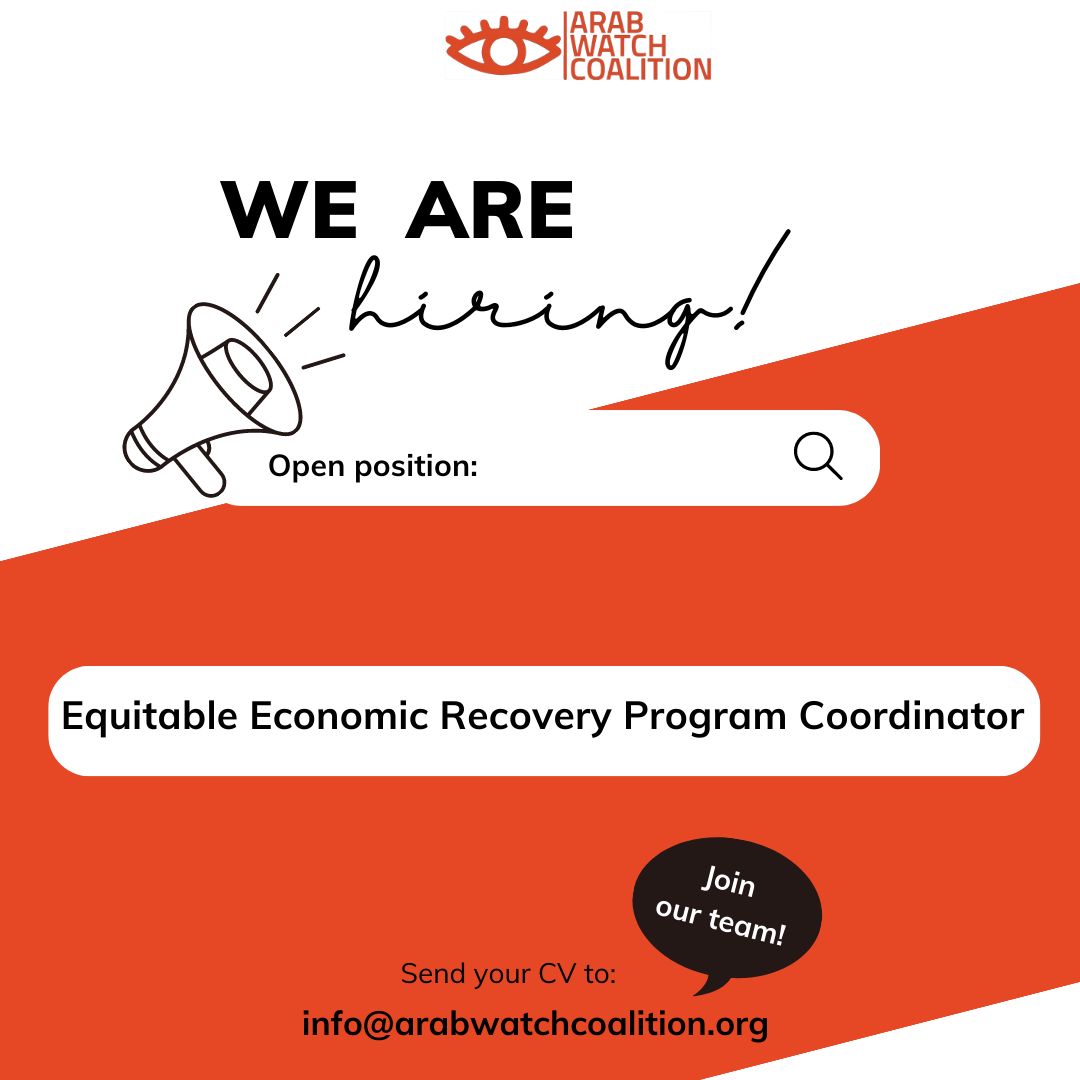 Introduction
The Covid-19 pandemic highlighted how ill-prepared was the MENA region to face a crisis. Years of austerity and rising debts have crippled public health systems and more generally the response of many countries in the region. Some of these countries had to resort to the IMF to provide relief to their populations. The pandemic had a double blow on MENA countries; on one hand, fiscal revenues have dramatically declined, and on the other hand debt to GDP has increased. This severely strains countries' ability to keep spending to support their population at a time when the health crisis is far from over. In this context, the IMF emerged as an even more powerful player in shaping the economic recovery in the region. 
As a Coalition working on promoting participatory, just, inclusive, and equitable development programs and processes in the region, the Arab Watch Coalition (AWC) is hiring a Program Coordinator to lead its advocacy work to ease the IMF's debt burden in the region and represent AWC in the different international movements aiming at achieving an equitable IMF's economic policies. 
Main responsibilities
Provide leadership to AWC work on the IMF especially on issues aiming at easing the debt burden and end austerity measures in the region. 

Represent AWC in meetings with IMF officials and related meetings with regional and international partners.

Liaise with, and represent AWC in, the different international networks working on the IMF and that AWC is a member in.

Lead the mapping of CSOs and social movements working and mobilizing against austerity at the national and regional levels.

Coordinate, organize, or supervise in-person and online workshops and events as needed for the campaign.

Develop analytical updates and reports on AWC work on the IMF.

Support AWC management in fundraising for its IMF work.

Manage the allocation of AWC resources for its IMF program.

Hire translators and any other consultancies and monitor their work.

Work closely with AWC's Media and Communications Coordinator to develop and disseminate media materials. 
Experience and skills
A minimum of 5 years of relevant work experience in either one of the following functional areas: -policy and advocacy; -project management; or public campaign management.

Working knowledge of economic justice issues that are relevant for the region especially austerity and debt justice/financing for development/public services.

Understanding of the role of International Financial Institutions, especially the IMF, in the global economy

Demonstrated experience in developing communications materials for various audiences, including e.g. the general public, policymakers, press

Excellent writing and speaking skills in English and Arabic are required. Although not required, the French language is a plus.

High integrity, excellent conceptual and team relations skills

Strategic, action-oriented mindset – highly organized and a go-getter
What we offer
Work remotely from any country in the MENA region. 

Work with a large group of leading economic justice civil society organizations at global, regional, and local levels

High-impact, high-visibility work environment, with a small team and a high potential for rapid growth 

Competitive salary.

Generous paid vacations.

Health insurance.
How to apply:
If you are interested, please send the following documents by September 15, 2023.
– Your CV
– A cover letter (1-page maximum) which should clearly state: why you think you are suited for this position, what objectives/learning outcomes you expect from this experience, when you would be available to start;
– Your application should be addressed to info@arabwatchcoalition.org email. Please use the subject line "Equitable Economic Recovery Program Coordinator application"
Only pre-selected candidates will be contacted.