Arab Watch Coalition's Program During IMF and WB Spring Meetings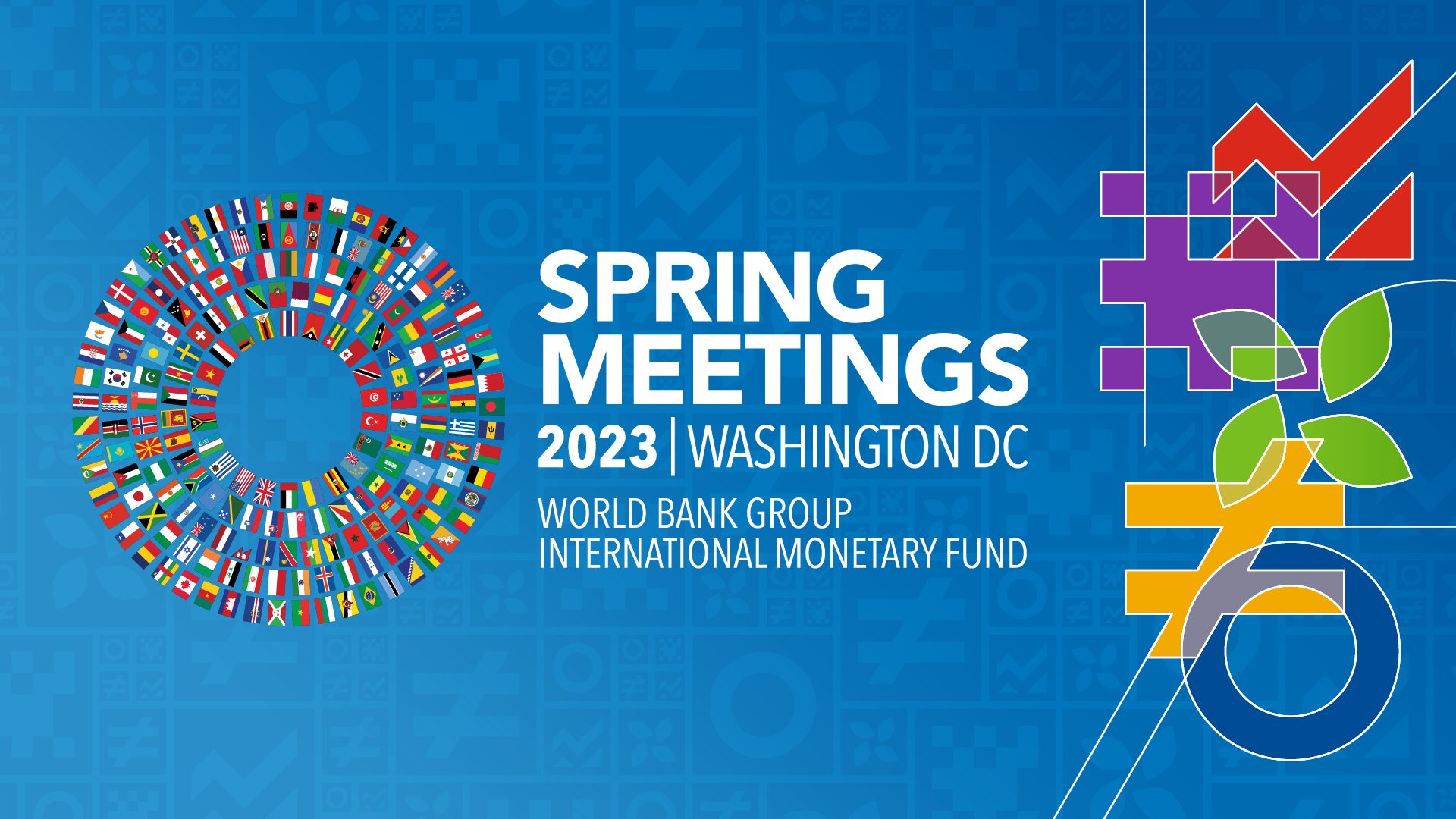 Arab Watch Coalition Participation the Civil Society Policy Forum starting next week from 10 to 16 of April in Washington DC during the Spring Meetings of the International Monetary Fund and the World Bank Group.
AWC will organize and co-sponsor several sessions as indicated in the program below.
Virtual participation in some sessions will be allowed via Zoom for registered participants. You can still watch the sessions through the broadcasts on the IMF website: www.imf.org/cso.
We are also organizing and co organizing different Side events , Please book the Dates.
The program
---
CSPF Activities organized by AWC
The role of SDRs in MENA region in times of debt and austerity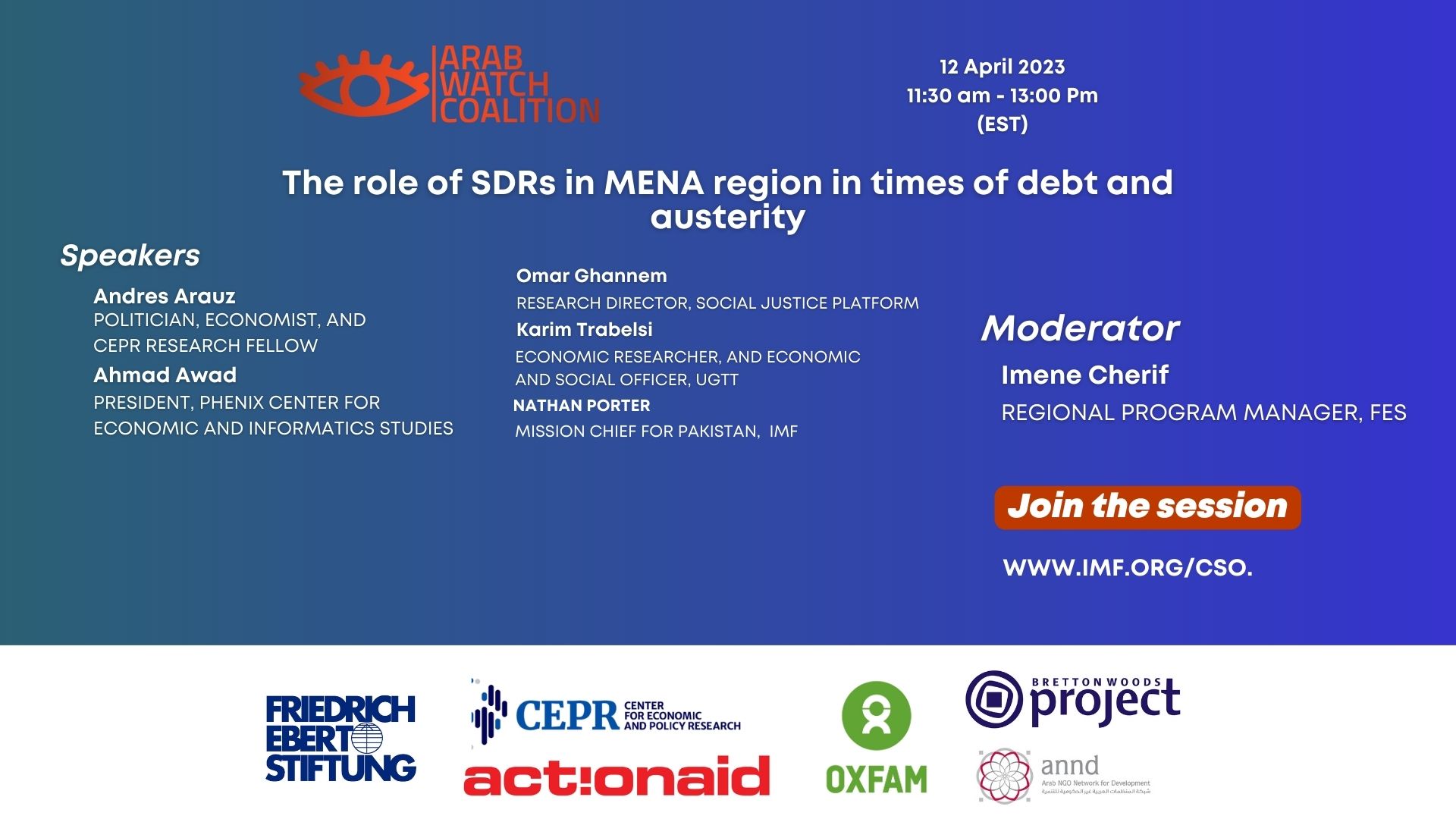 Speakers:
Andres Arauz, politician, economist, and CEPR research fellow
Ahmad Awad, president, of Phenix Center for Economic and Informatics Studies
Omar Ghannem, Research Director, Social justice platform
Karim Trabelsi, economic researcher, and Economic and Social officer, UGTT
Nathan Porter, Mission Chief for Pakistan, International Monetary Fund
Moderator:
Imene Cherif, regional Program manager, FES
Date: Wednesday, April 12th, from 11:30 am to 1:00 pm EST / 3:30 PM GMT
Link: https://imf.zoom.us/j/93587247894?pwd=RDRwMXg0WDNuSWtweG5kcHFzdVVZZz09
Translation: Arabic and French
How can the global south achieve climate justice under debt burden and austerity?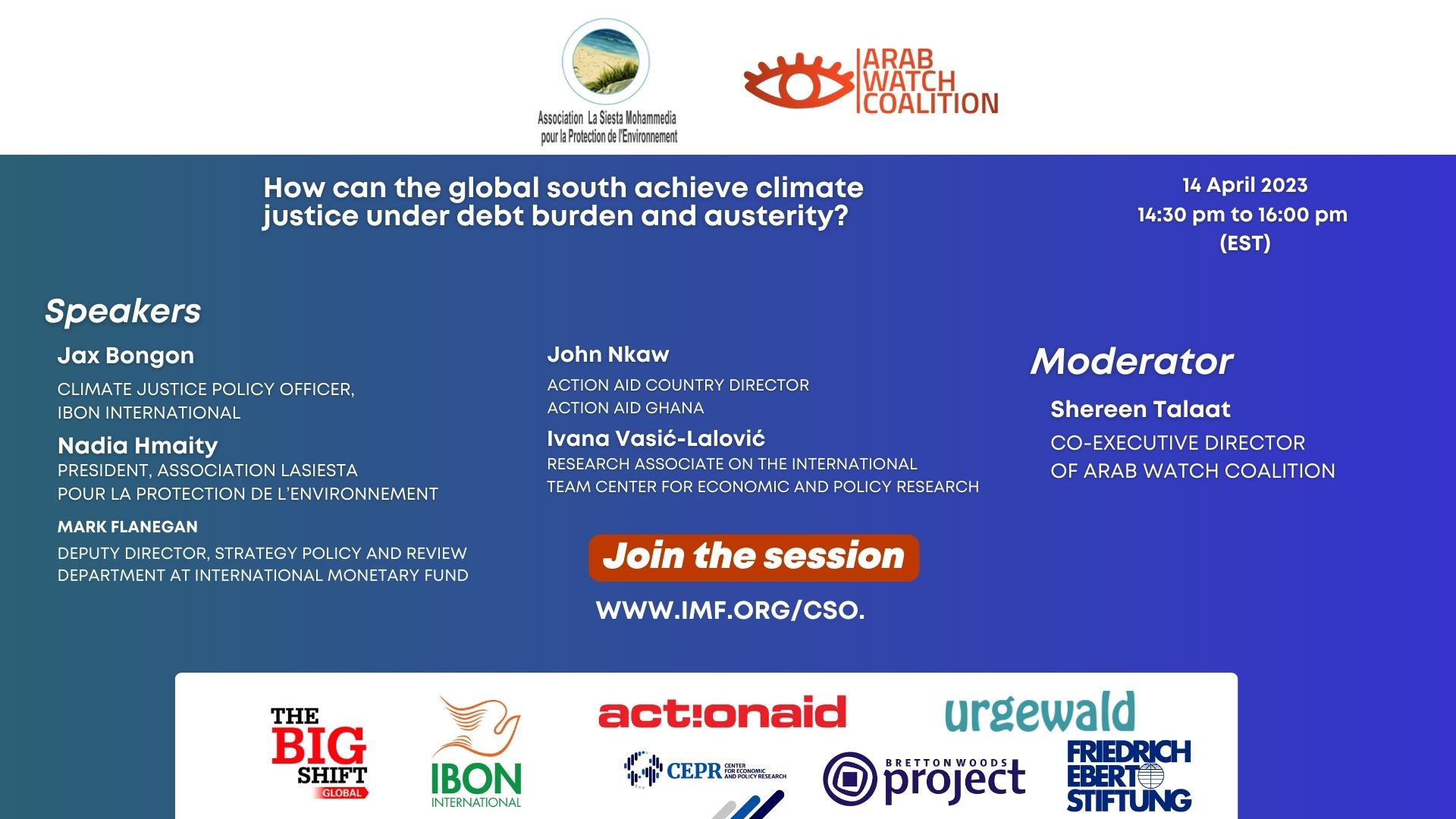 Jax Bongon, Climate Justice Policy Officer, IBON International
Nadia HMAITY, President Association LaSiesta Pour la Protection de l'Environnement John Nkaw, Action Aid country director, Action Aid Ghana Ivana Vasić-Lalović, Research Associate on the international team Center for Economic and Policy Research
Mark Flanegan, Deputy Director, Strategy Policy and Review Department at International Monetary Fund
Moderator: Shereen Talaat, co-executive director, Arab Watch Coalition
Date:  Friday, April 14th, from 2:30 pm to 4:00 pm EST / 6:30 PM GMT
Translation: Arabic and French
---
Side meetings and events 
The Road to Marrakesh 2023: Preparatory meeting 
Date:  Thursday, 13th,  5:30pm to 7:pm EST
Register 
here
IMF and World Bank governance reform: Enabling the international system to meet the challenges of the 21st century
Date: Saturday, 15 April, from  10:00 AM to 4:00 PM EST
---
Sessions Co-sponsored by AWC
Ensuring the World Bank Group's 'evolution' delivers for people and planet: Reframing development impact indicators

Date: Tuesday, April 11th, 4:30 PM to 6 PM EST / 8:30 PM GMT
Achieving debt crisis resolution that delivers today and in the future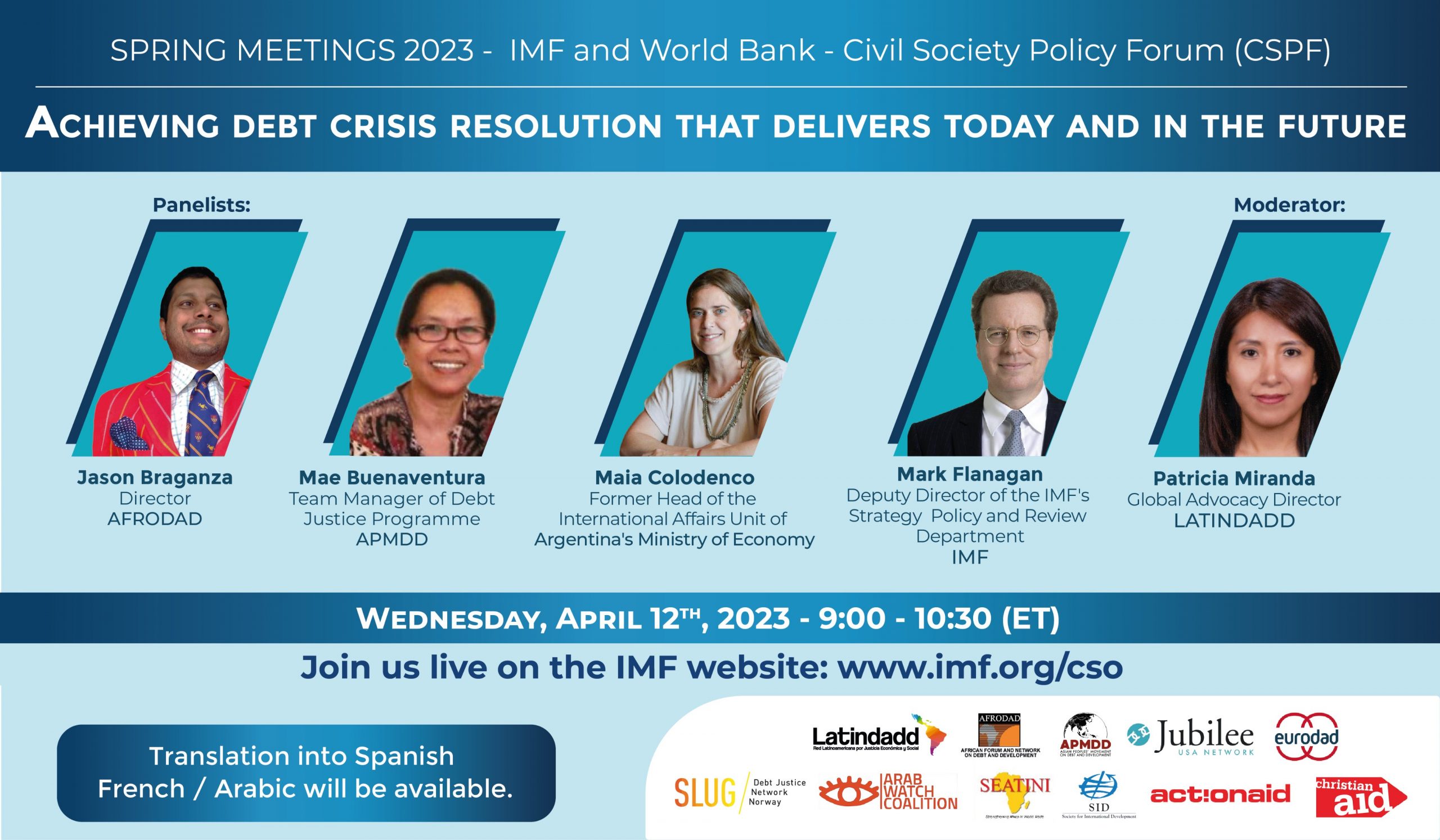 Date: Wednesday, April 12th from 9:00 AM to 10:30 AM EST / 1:00:00 PM GMT
Link: https://imf.zoom.us/j/96540515216?pwd=aDhTdklURGFYNWRONDllcXNzeTNZUT09
Translation: Spanish, French, and Arabic
Remedy From Those Who Need It: Communities Respond to IFC Proposed Remedial Framework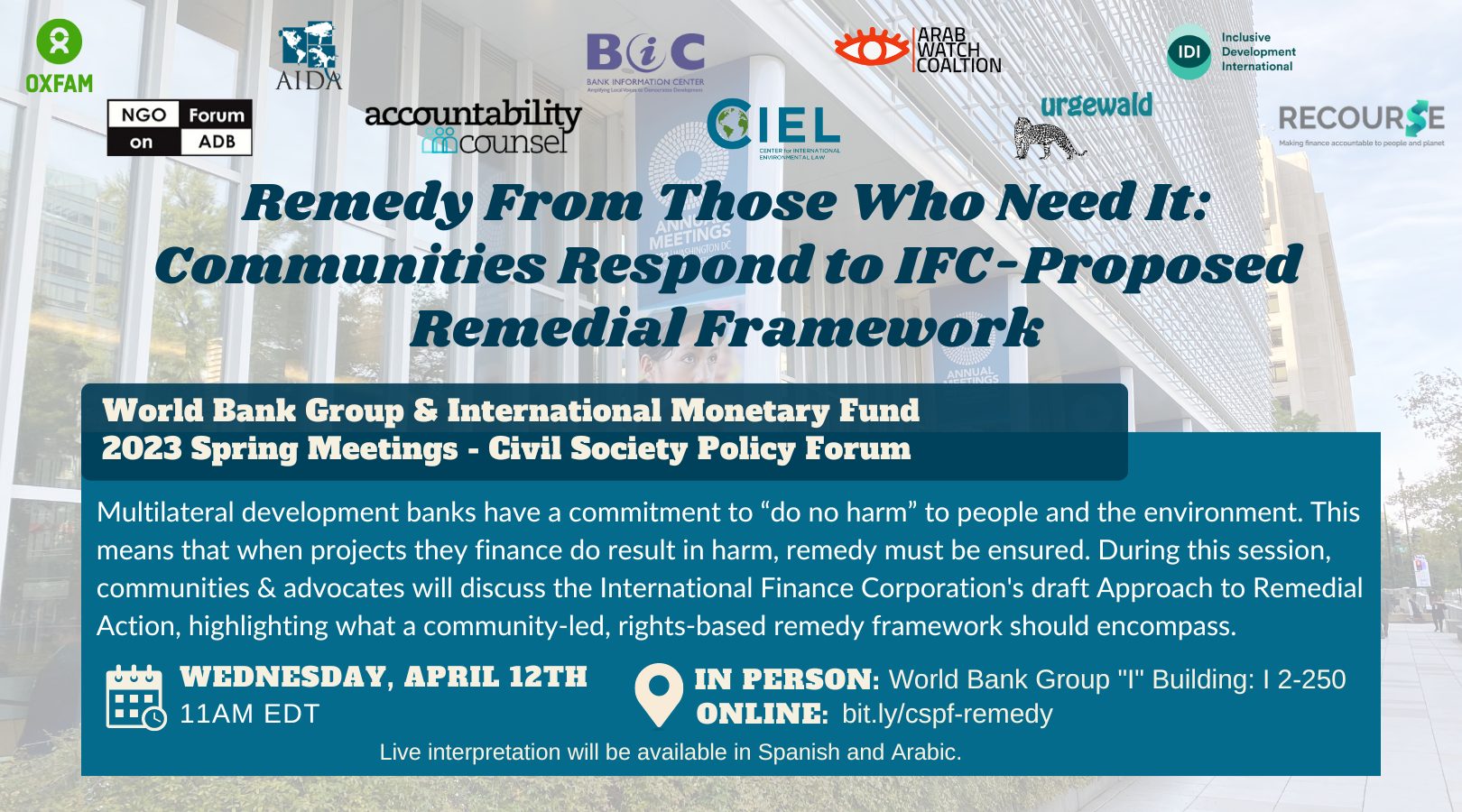 Date: Wednesday, April 12th, 11am-12:30pm EST / 3:00:00 PM GMT
Translation: Spanish, and Arabic
Examining the World Bank president selection process in the light of the World Bank's Evolution Roadmap
Date: Wednesday, April 12th, 2:00 PM to 3:30 PM EST / 6:00:00 PM GMT
Why Paris Alignment must be part of the Evolution Roadmap and what this should look like
Date: Wednesday, April 12th, 2:00 PM to 3:30 PM EST / 6:00:00 PM GMT
Uses and impacts of Special Drawing Rights in developing countries: how they fit within climate action and the 2030 development agenda?
Date: Friday, April 14th , at 12:00 pm to 1:30pm EST / 4:00:00 PM GMT