We Are Hiring! Global End Austerity Campaign Coordinator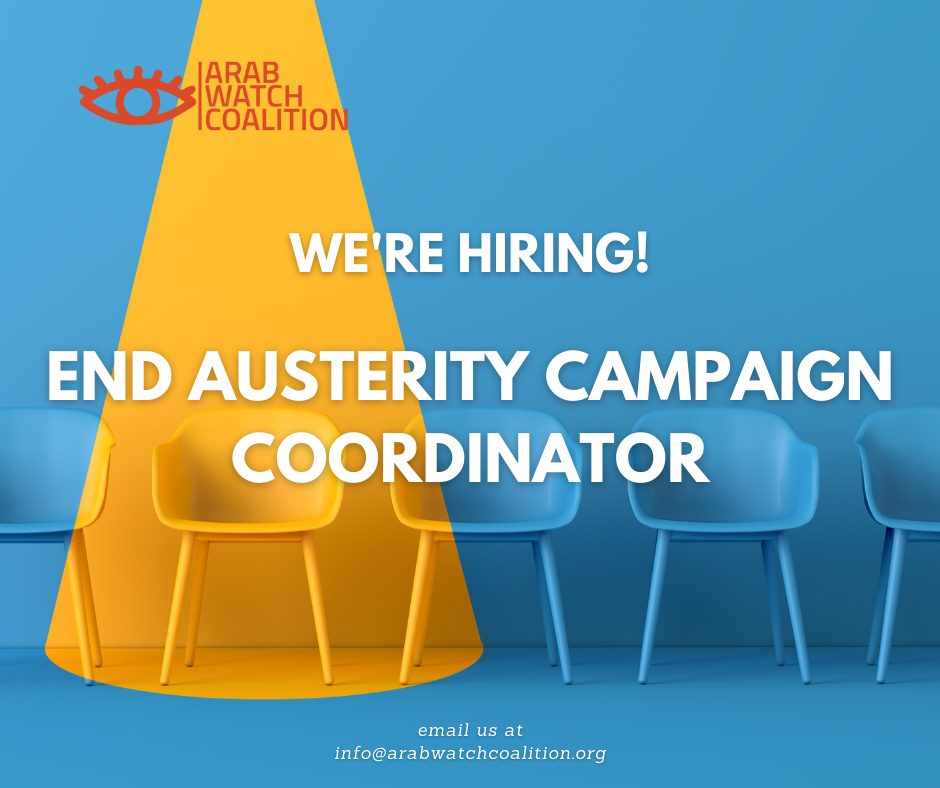 Introduction
In October 2020, six months into the pandemic, more than 500 civil society organizations and academics from all over the world published an open letter calling on the International Monetary Fund (IMF) to stop promoting austerity and instead advocate policies that advance gender justice and human rights, reduce inequality, and decisively put people and planet first. In 2021, over 20 signatory organizations from the Global South and the Global North decided to form the #EndAusterity Coalition, to share research and information, develop joint advocacy strategies, and amplify national and global struggles to push back against the looming threat of austerity that is being promoted by International Financial Institutions (IFIs) as the only way for economic recovery for the Global South. In September 2022, the coalition officially launched the #EndAusterity Campaign at the EndAusterity Activism Festival.
Its core membership is made up of 20+ organizations which include: Action Contre la Faim, ActionAid, Arab Watch Coalition, Bretton Woods Project, Christian Aid, Center for Economic and Social Rights, Debt Justice, E3G, Equidad de Genero, Erlassjahr, Eurodad, the Fight Inequality Alliance, Financial Transparency Coalition, Global Social Justice, Human Rights Watch, INESC-Brasil, ITUC, IWRAW-AP, Latindadd, Oxfam International, Recourse, Shirakat, Third World Network, Wemos, and the Women's International League for Peace and Freedom.
The governance structure of the coalition includes an elected Steering Committee and working groups. Thanks to new funding, the coalition is now able to hire a Project Coordinator to support the implementation of the campaign activities, especially leading to the Annual Meetings of the World Bank and the IMF both in 2023 and 2024, of which the meetings in 2023 will be held in Marrakesh, while the 2024 meetings will be held in Washington DC. The project coordinator will be hosted by the Arab Watch Coalition, and their activities will be jointly supervised by the End Austerity Steering Committee.
This role will be critical in enhancing the ability of the campaign to work together more effectively and streamline the coordination between different groups and parts of the coalition. By supporting and solidifying the #EndAusterity campaign, the role will contribute in forming a global critical mass that will push against austerity on the national, regional, and international levels.
This critical mass of organizations and movements will be critical to break away with austerity is the default response of governments and international financial institutions to economic crises to be replaced by a policy paradigm that is rights-based, care-centered, decolonial, feminist, and just.
Main responsibilities
Share minutes with all members, and keep updated the repository of all materials of the Global EndAusterity campaign and any other related actions.
Coordinate and organise or supervise campaign activities: including mobilizing membership, supporting partners in the implementation of online workshops and public events, supporting with media outreach, etc
Lead the mapping of CSOs and social movements working and mobilizing against austerity at the national and regional levels, with the support of the coalition members and working groups.
Lead the organising of the End Austerity Activism Festival in 2023 and 2024, based around the Annual Meetings of the WB and the IMF in 2023, and a chosen date in 2024.
Maintain regular contact with campaign members, Steering Committee, and working groups
Lead the regular update of the End Austerity website
Keep updated the repository of all materials of the EndAusterity campaign
Hire translators and any other consultancies, and monitor their work
Set up and maintain an online calendar of advocacy opportunities combining national, regional, and international levels
Support with the dissemination of campaign materials – coordinate with comms working group
Support the Steering Committee with the campaign budget
Experience and skills
A minimum of 5 years of relevant work experience in either one of the following functional areas: -policy and advocacy at l; -project management; public campaign management.
Experience in successfully running a public campaign (media, social media, stunts etc, marketing etc.)
Working knowledge of economic justice issues that are relevant for the Global South such as austerity and debt justice/financing for development/public services
Understanding of the role of International Financial Institutions in the global economy
Experience coordinating diverse stakeholders across time zones and geographic scopes (e.g. international and regional/local groups)
Demonstrated experience in developing communications materials for various audiences, including e.g. the general public, policymakers, press
Excellent writing and speaking skills in English and Arabic are required, and other languages ( Spanish, French) are a plus
Design & visual skills, (social) media savvy, basic web design/maintenance skills
High integrity, excellent conceptual and team relations skills
Strategic, action-oriented mindset – highly organized and a go-getter
What we offer
Work from the MENA region, preferably Morocco – the role will be hosted by Arab Watch Coalition
Work with a large group of leading economic justice civil society organizations at global and local levels
High-impact, high-visibility work environment, an opportunity to help build a new global campaign from the ground up
Full-time for 18 months (possibility of renewal)
Salary range: 15-20k USD per annum.
If you are interested, please send the following documents by 31 March at 12 pm Morocco time (GMT ) :
– Your CV
– A cover letter (1-page maximum) which should clearly state: why you think you are suited for this position, what are your objectives/learning outcomes expected from this experience; when you would be available to start;
– Your application should be addressed to info@arabwatchcoalition.org email. Please use the subject line "Global End Austerity Campaign Coordinator application"
*Applicant should be based in MENA and preferably in Morocco. 
Only pre-selected candidates will be contacted.