Emna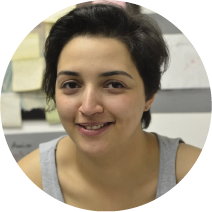 Emna Maaref is a jurist interested in the study of economic policies and Tunisian economic law. She had her bachelor's degree in law from the Faculty of Law and political science, Tunis Manar University, and her Master's degree in public law from the same Faculty. She did her research on the impact of the IMF's assistance on the Tunisian economic policies.
Also, as an activist, Emna was involved in socioeconomic issues with several social movements since the Tunisian revolution.
She had the opportunity to develop her knowledge and practices in new cultural trends and new educational methods during her professional experiences.
She is interested in collaborative artistic creations and artistic management and she spends a lot of time composing music and sound designing.