oua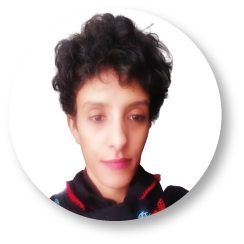 Ouafa has been involved with several social movements and civil society groups, focusing on education and gender equity. With the UECSE, a Moroccan student movement, she was advocating for free and equitable education for all alongside trade unions and civil society groups. She was coordinating global actions with student movements against the profit-driven logic in education system.
Ouafa holds a Bachelor in Applied Mathematics at the Faculty of Science and Technology, and a Master's degree in Civil Engineering, Buildings and Public Tasks from the Moroccan School of Engineering Sciences which made her active in the environmental issues. She worked with local communities on bio-based construction techniques and materials, and with waste-pickers in a study on informal waste management circuits in Morocco.
She believes in doing her bit towards the change the world needs and she, especially, likes debates on dismantling patriarchy.